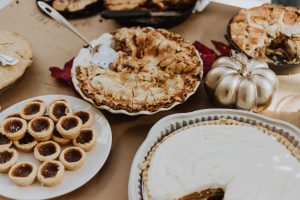 More than anything, Thanksgiving is a holiday that is about families coming together and breaking bread. Thanksgiving is also a holiday characterized by bad traffic as millions of American families hit the road to either go to their family homes or drive to their nearby malls for the great shopping that awaits them on Black Friday. The busy roads and other conditions of holiday traffic congestion are less than ideal for a move, especially a long-distance one.
While our professional Austin full-service movers have the expertise and experience to handle all types of moves regardless of the complexities and challenges that can arise, it is still best to have a game plan when moving during the Thanksgiving holiday weekend. You not only want your move to go as efficiently as possible, but you also want to preserve that joyful holiday spirit in spite of the stresses that come with moving into a new home.
When you move with AB Moving & Storage, our moving company in Austin, you can move during Thanksgiving or other holidays. This is because our Austin movers will complete your move at anytime of the year, focusing on a time that's most convenient for you. But to have the best possible move during Thanksgiving, follow the following top three helpful moving tips.
Pick a Moving Date That Avoids Bad Traffic
The worst possible days to be on the road are the Tuesday or Wednesday right before Thanksgiving because that is when the majority of families will be driving to their families [1]. Traffic congestion is at its worst during the Sunday after Thanksgiving as well, since that's when most people choose to go back home [1]. When scheduling your move, avoid those dates. If you don't have any prearranged plans, you can even schedule your move on Thanksgiving since most people will already be with their families.
Hire Professional Austin Full-Service Movers
Since most of your family members and friends will have plans and engagements during Thanksgiving, you may not have as many helping hands on moving day. Instead of doing everything by yourself, hire professional Austin residential movers to complete your move from start to finish. Our Austin full-service movers at AB Moving can pack up your entire household and safely transport everything in no time. Once you've arrived at your new place, you can finally think about celebrating Thanksgiving with your family.
Make Thanksgiving Dinner Reservations
After a move, the last thing you'll want to be doing is making a Thanksgiving feast and inviting people over. Your household goods will likely not be completely unpacked, and you'll probably be tired after your move. However, you can still stay in the spirit of the holiday and enjoy Thanksgiving with your family if you make dinner reservations beforehand.
Prior to your move, make reservations at a restaurant in your new neighborhood that serves Thanksgiving dinners. Take some time off the moving process and enjoy some professionally-prepared turkey, mashed potatoes, stuffing, and other delicious dishes while giving thanks for a successful move!
Sources
[1] John Patrick Pullen, Time – This Is the Worst Time to Drive This Thanksgiving